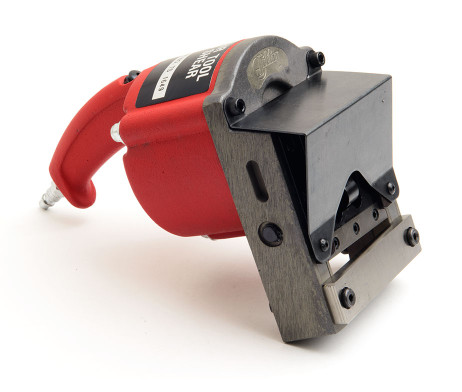 Tab Shear
You can efficiently shear router tabs from aluminum, steel, titanium and stainless steel or preform similar shearing and trimming operations with this light weight, powerful tool.
Made from 356 T6 aluminum and heat treated precision ground tool steel for the demanding use of the Aerospace industry. Shearing Capacity: Aluminum 1/8″ 3.17mm Steel 1/16″ 1.59mm
Maximum Throat Opening: 1/8″ x 3″ 3.17 x 76.2mm
Shearing Force: 4200 lbs. 1909 Kilos Weight: 7 lbs. 3.18
Kilos Air Inlet Thread Size: 1/4″ NPT
A: Full Length Bosses With Bolts and Self Locking Nuts That Will Not Loosen or Pull Out.
B: Hard Anodized Aluminum Frame That is Twice as Strong as The Competition in this Critical Area.
C: Tool Steel Shear Blades May Be Resharpened or Rotated to a New Edge. Two Edges, Top Blade Four Edges, Bottom Blade
D: Large Carbide Wear Faces Protect Frame.